A lifelong labour of love for Kelowna's continental kit king
Sam Bronstein has supplied the ultimate 1950s and '60s collector car dress-up accessory for 40 years
Published on Friday, August 28, 2015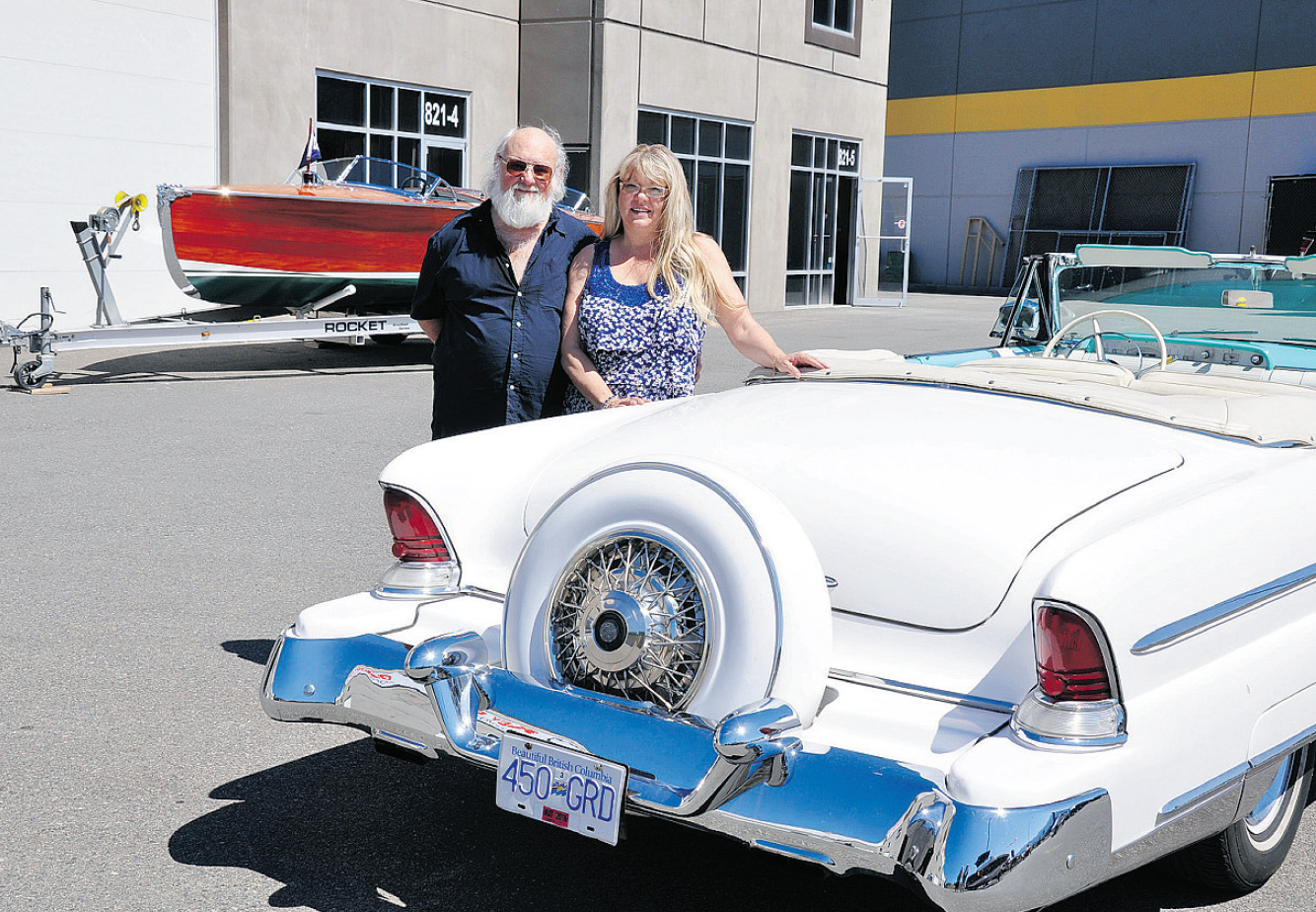 It's the ultimate collector car dress-up accessory. Sam Bronstein has always loved the long, low cars of the 1950s that were made even longer and luxurious looking with extended bumpers and the spare wheel mounted at the rear. As a kid, he would mount a wheel on the back of his Dinky Toys.
His interest in continental kits would become his life's work.
Cars had their spare tires mounted at the rear a century ago. But Edsel Ford's design of the 1940s Lincoln Continental with its long front and short rear was the first to mould the rear spare into the car design.
When the wartime models changed in 1949, enterprising car accessory manufacturers brought out continental kits to accessorize Ford and Chevrolet cars so they looked longer and lower.
Accessory companies, including Foxcraft, Stylecraft, Lido and Bonzer-Western, offered kits starting at $28. Huddleston- Whitebone offered a unique kit for the 1953 Cadillac Eldorado convertible featuring a button in the centre of the wheel cover that allowed the hinged tire carrier to fall backwards for easier trunk entry.
One style is comprised of steel pieces to extend the bumper, a wheel carrier that could be moved out of the way to open the trunk, pans to fill in the area between the car and the extended bumper and chrome or painted wheel covers.
Toronto-born Sam Bronstein ended up in Bellingham, Wash. with his two brothers in the 1970s. When a bid to develop property there didn't meet their expectations, Sam and his older brother Alan turned their passion for cars of the 1950s into a business. They found a continental kit for a 1954 Mercury for sale at a swap meet, bought it and then sold it through an advertisement in the nationally distributed Hemming's Motor News. They then did the same with an aftermarket kit for a 1956 Chevrolet discovered in the attic of an old GM dealership.
Their next find was a Bonzer- Western kit to fit 1955 and 1956 Ford cars.
The enterprising brothers duplicated this continental kit and advertised it for sale with a fibreglass tire ring for $295. They were overwhelmed with responses to their ad.
By that time, the brothers had moved to Calgary where Alan worked as a printer and Sam ran the emerging continental kit business. In 1977, Alan was offered a partnership in a printing shop, moved to Toronto and left the business to Sam.
"We weren't making a lot of money and my brother told me I had to have a lot of different kits on the market to make a business of it," Sam recalls.
Sam would duplicate any continental kit he could purchase at swap meets in the U.S. and any he could borrow in Calgary.
"I can remember measuring the height of the continental kit tire carrier for a 1959 Ford retractable convertible with the core from paper towels," he says.
He gradually built up the number of kits he offered, got a fabricating company to make the pans and carriers and packaged the kits up in his apartment for shipping.
But the turning point for the business came when he got into manufacturing original dealer option continental kits.
He had dies made up to press out the special wraparound bumper for mid- to late 1950s Chevrolet continental kits. These are exact duplicates of the General Motors-authorized accessory kits installed on new cars by dealers back then. The kit includes the original installation instructions.
"Having dies made was a large and decisive step. It was a huge investment for me," Sam recalls.
He moved his growing business to Kelowna in the 1980s and called it Continental Enterprises.
"Our rarest find was an original 1958 Pontiac Bonneville continental kit purchased at the swap meet in Carlisle, Pennsylvania in 1982," he says, noting, "The key was to duplicate original kits and to reinvest in more dies to increase the years and makes of kits available."
Today, Continental Enterprises is run by Sam and his wife Patty and occupies warehouse space in a Kelowna industrial park. It contains metal-shaping equipment, a 100-ton press and hundreds of patterns and dies for pans and carriers.
The company currently offers continental kits for more than 200 different models of cars. "There isn't a popular car in the 1950s or 1960s that we don't provide a continental kit for," he says.
Sam has sold to enthusiasts all over the world shipping his kits everywhere, from Australia to Sweden, Iceland to Ireland and most countries in between. His biggest market continues to be the United States.
The kits are priced from $895 to $2,195 and include either a chrome or painted tire ring and faceplate. There is a choice of a solid face plate or one for the hubcap in the centre.
His daily driver is a 1955 Lincoln Capri convertible which is, of course, equipped with a continental kit.
He has driven the car over 140,000 kilometres all over North America since buying it in College Park, Pa., in 1988.
"I first saw a 1955 Lincoln convertible on a card that came in a bubble gum package when I was eight years old and have been in love with the design ever since," he explains.
He says there are still thousands of classics out there that could be equipped with continental kits. "This has been my life's work and I look forward to it every day."
He gets calls from enthusiasts all over the world and the craftsmen working in his shop build continental kits every day.
"We manufacture a high quality product. Each of our continental kits come with an unconditional money back guarantee on that quality, on the workmanship and on the fit," he says with pride.
---